Fingal Washing Machine Repairs – North Dublin
Fingal Repairs is a family-owned and run washing machine repair business.
If you need any advice with your washing machine, call Shane Flanagan directly at Fingal Repairs on 087 264 0404.
Don't worry if it's outside office hours when you call; Shane will get back to you as soon as he picks up your message.
Fingal Repairs covers North Dublin city and county.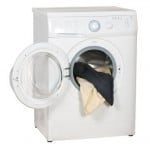 What should you do when your washing machine breaks down?

The first thing to do is to figure out whether your machine is still under guarantee or not. If your machine is still under the guarantee period, call the company you have your guarantee with, and organise for them to call out and fix your machine. Most times, your repairs will be covered under your guarantee, but be aware that there are times when this is not the case.
If a guarantee no longer covers your machine, you need to call a reliable washing machine repair man to have a look at it for you. He will let you know how much it will cost to get fixed, and you can then decide whether it's worth your while to repair the machine.
Most repairs to washing machines are affordable, but some repairs can be too costly, considering the age of your washing machine. You may have no choice but to purchase a new machine. If you decide to replace your machine, do ask your repair man for advice on what machine you should opt for. After all, he is an expert!